Title: AmuseWiki, yet another wiki engine
Subtitle: Vienna, Perl Dancer 2015
Date: October 22, 2015
Marco Pessotto (melmothX)
AmuseWiki, yet another wiki engine
Vienna, Perl Dancer 2015
About me: Marco Pessotto
PAUSE id

MELMOTHX

IRC

melmothX on Libera Chat and irc.perl.org

E-mail

melmothx@gmail.com

Homepage

IRC channel

irc://irc.libera.chat/#amusewiki

GitHub

Background

Humanities (history and translations)
One man project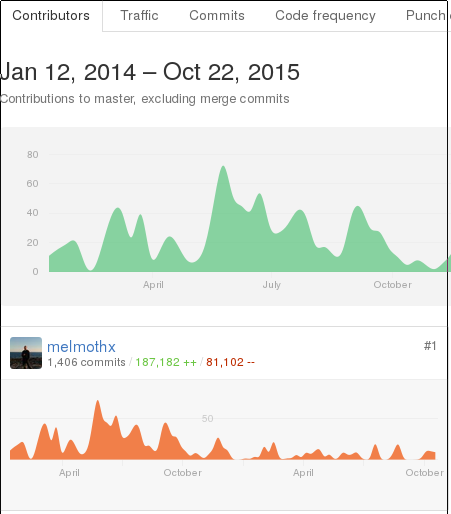 Why?
Long term storage of texts in a clean form

Publishing texts providing the best possible reading experience.
Yet another wiki engine
Flat file storage, one text maps to one file with all the metadata

Git backend

High-quality output: LaTeX

PDF imposing for printing

EPUB for e-reader and mobile

Bookbuilder to customize the output and create collections

HTML importer (supporting copy and paste from Word via ckeditor)

Upcoming: slides and POD importer
Source (Emacs Muse markup)

#title My title
#subtitle Another boring essay
#author John Doe
#topics boring things, another topic
#date October 22, 2015
#notes This was just a test

** Chapter one

And **here** the *text* starts


Text view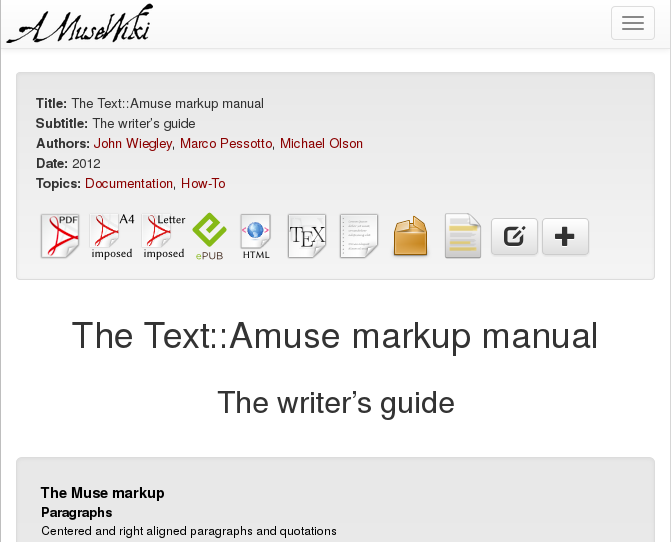 Bookbuilder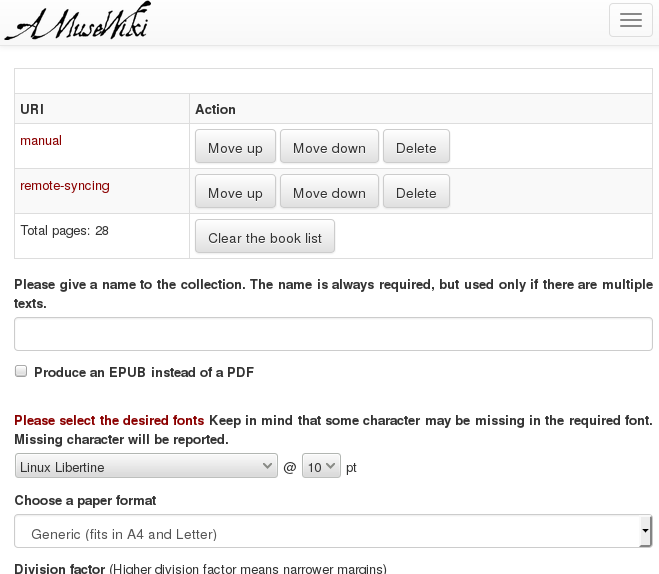 Imposed PDF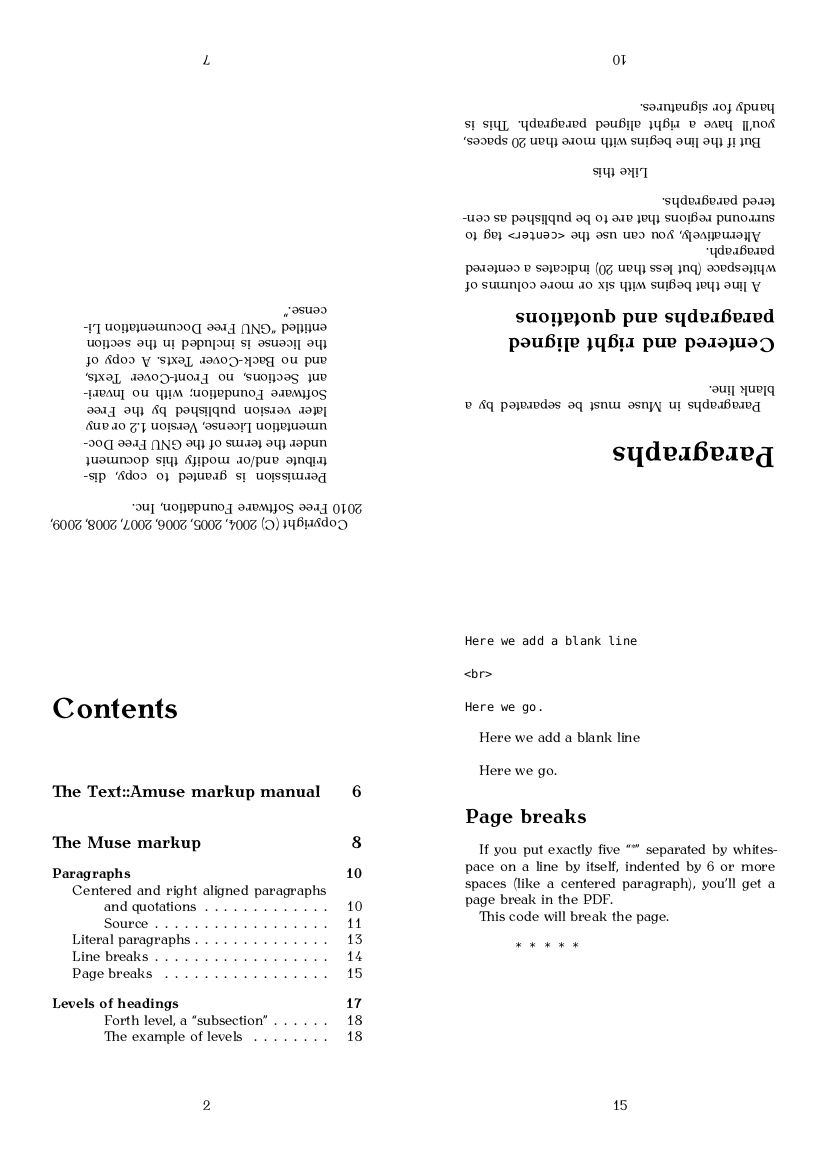 Home-brewed modules (available on CPAN)
the parser

port to Moo of EBook::EPUB

the cleaner

prepare PDF for printing

glues all together (CLI script provided)
Web Frontend
Framework

Catalyst

Layout

Bootstrap

Multisite

on one instance you can run as many sites you want

Database

DBIx::Class

Search

Xapian

Templating

Template Toolkit

Localization

English, Italian, Croatian, Macedonian, Russian, Finnish, Swedish, German, Spanish.

Users

peer-based.
Git for the win
A daemon takes care of all the git-related operations where concurrency may be a problem.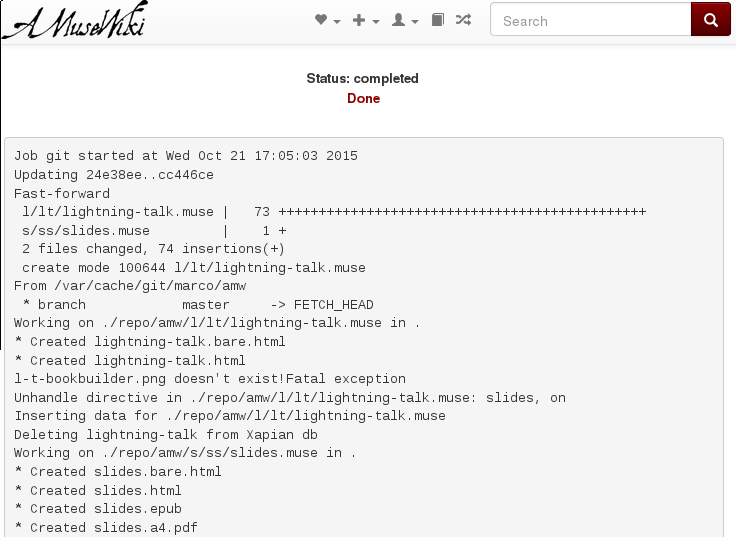 Cgit for recent changes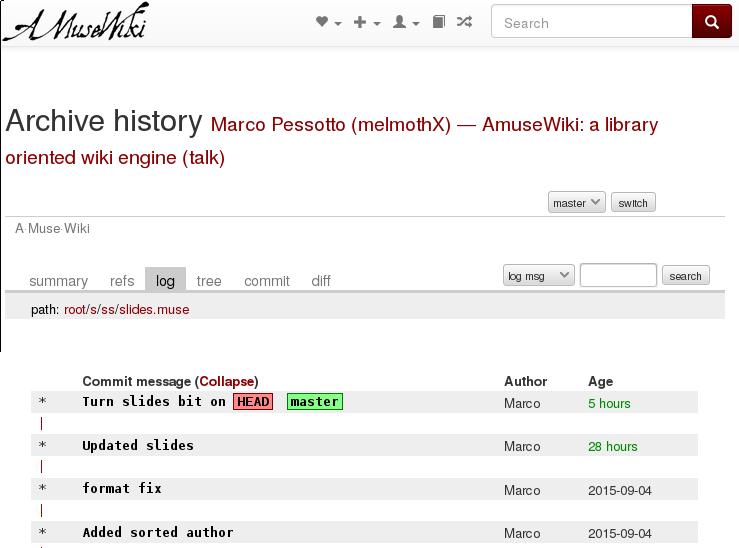 Modes
private

blog

moderated wiki

open wiki
Hey, tests!

[...]
t/zz-finish-tests.t ............ ok
All tests successful.
Files=73, Tests=2555, 646 wallclock secs
 ( 1.00 usr  0.16 sys + 368.93 cusr 17.74 csys = 387.83 CPU)
Result: PASS

Questions?